Rescheduled events at MPavilion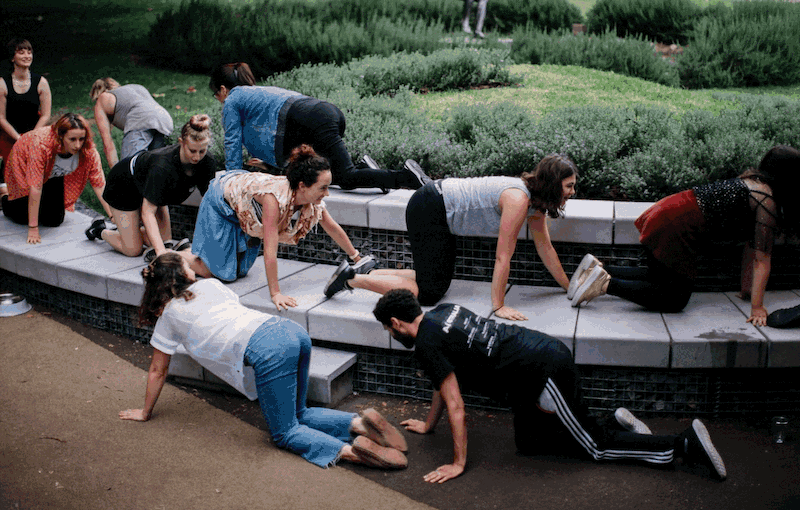 Thought you'd missed out on an MPavilion event because of Victoria's snap-lockdown, between February 12—18?
You'll be delighted to know that our hardworking team behind the scenes—and our extraordinary collaborators—have achieved the (near) impossible, and rescheduled every event that had to be postponed.
That means you'll get to groove with MERGE: IRL, relax and reflect with Sense of Self, immerse yourself in the music of Becky Sui Zhen & Mindy Meng Wang, lose yourself in Banoffee's beats, move your body with Deep Soulful Sweats, and more!
MMUSIC MERGE: IRL
Part 2 of MERGE music commission is about to launch—and it's happening IRL. Part 1, which screened on our website last year, saw five powerful local music acts perform in five remarkable heritage spaces, and now that part 2 is bringing those musicians to MPavilion Parkade, where they will perform five new songs for you, live.
MMEETS DEEP SOULFUL SWEATS
Deep Soulful Sweats is for anyone and everyone to come together and exorcise through exercise. A guided astrological dance, DSS creates ecstatic, inclusive and unrehearsed performance experiences, with no spectators. Framed by a tongue-in-cheek approach to the zodiac, it's an immersive ritual for all, no dance or performance experience required. Divided into elements, (Earth, Air, Fire, Water) participants are led 'follow the leader' style, through spontaneous choreography, chanting, absurdity and fantasy – an embodied and energetic exchange in dance and choreographic practice. DSS encourages participants to let go and find their own way through movement, embracing difference in a judgment free space and finding profound togetherness.
MMUSIC ORIGIN OF YOU
Origin of you is a work inspired by Becky Sui Zhen and Mindy Meng Wang's heritages, family stories and life experiences. A meeting of music played on a 2,500-year-old guzheng instrument from China, and electronic music born of contemporary Melbourne,  the collaboration is the expression of two artists who feel that they are both quintessentially representative of current racial tensions between China and Australia, but who hold the key to bringing their communities together.
MMUSIC BANOFFEE & FRIENDS
Banoffee, Soju Gang, Purient and Elle Shimada are coming to take you away to a sonic electro fantasy land with their dreamy beats, gliding synths and textured vocals.
MTALKS COMMUNAL CEREMONIES: THE MODERN BATHHOUSE
The founders of the new Sense Of Self bathhouse talk about what it is to bring the social ritual of communal bathing back to our communities. Hear how they designed the space to combat the problem of isolation and disconnectedness, how they used empathy as a key to understanding ways in which the ancient social pass-time of bathing could be relevant again for us today, and how bathing could be one of the answers to bringing us back together again.
MMEETS TOPLESS CINEMA: BABYTEETH
If you want to direct a film about a young woman experiencing the flush of first love as she dies of cancer then you better rinse it free of all the cliché left on it by The Fault in Our Stars, Me and Earl and the Dying Girl and oh so many others going all the way back to Love Story. Director Shannon Murphy took the note when she made Babyteeth with Eliza Scanlen (Little Women) in the lead and Toby Wallace as the rat-tailed and roguish object of her love. Essie Davis and Ben Mendelsohn play her parents. They are—in another break from the genre's form—deeply realised characters and an important part of what makes this uplifting, heartbreaking debut feature work.