Q&A: Meet our M_Curators team of young programmers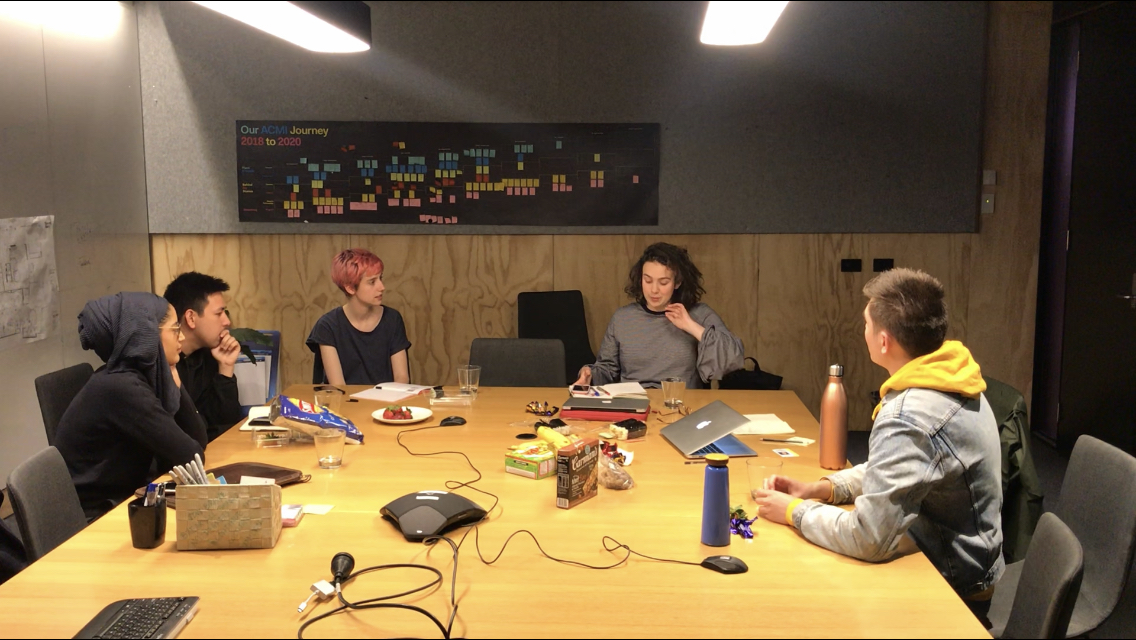 This year, MPavilion is nurturing young and emerging arts curators with our M_Curators (that's pronounced "M space curators") initiative. MPavilion's program manager Jen Zielinska and program producer Vinisha Mulani have been guiding a talented group of up-and-coming curators through the ins and outs of arts programming, culminating in a number of events at MPavilion 2019. Our M_Curators are: Jess Eddy, Zadie Mccracken, Lana Jones, Henry Pyne, Henry Nguyen, Athiqah Ummi Salma and Jett Janetzki.
We spoke with Zadie Mccracken, one of the M_Curators programming team, about jumping into the hot seat and taking events from concept to reality.
MPavilion: Hi Zadie, tell us a bit about yourself.
Zadie: I'm an eighteen-year-old writer, artist, performer and producer about to finish my high school exams! In the past, I've worked with Darebin Arts, Signal, and Ramona Magazine, and this year I produced a spoken word show for the Melbourne Fringe Festival. I like universalising or publishing the private and taboo, deconstructing ancient ideas and highlighting unseen spaces, people and ideas in my work. I aim to pursue a career in the arts with a focus on arts events, and I'm obsessed with TV shows, Roald Dahl, and lemon sponge cake.
MPavilion: How did you find out about the MPavilion young curators program, and what made you interested in participating?
Zadie: I found out about the MPavilion young curators program through Signal, and I knew immediately that I wanted to participate. Since my involvement in Darebin Arts' Let's Take Over program earlier this year, I've been really interested in the synthesis of community and arts, and how I can pursue a career which includes both my love of people and my love of good art. MPavilion felt like the perfect space to investigate the intricacies of that ambition and develop my understanding of public programming and producing.
MPavilion: Which event are you most looking forward to at MPavilion?
Zadie: Apart from my own, I am really looking forward to the RMIT Master of Fashion (Design) Graduate Showcase (I love fashion); our First Date with MPavilion 2019 event (I love romance); and the Wednesday Assembly series with Lauren Taylor and Simon Winkler (I love Wednesdays, and podcasts).
MPavilion: What are you currently working on at the moment?
Zadie: At the moment, I'm working on my podcast, Rose and Zadie Talk Sh*t, a new play, a lot of poetry, finishing my exams, and two incredible events with Auslan Consultancy for MPavilion. I'm also involved in the inaugural Young Connectors program at the Arts Centre, which starts in January!
MPavilion: How have you found your experience as an M_Curator?
Zadie: I love being an M_ Curator. The program has given me unique professional connections, encouraged my passion for public art, allowed me to produce and lead two artistic events I am so excited about, and given me new ways to understand programming, producing, and my career. Plus, we are well-fed at every meeting, which is always nice.
Learn more about our M_Curators on our Initiatives page.
MPavilion 2019 opens in the Queen Victoria Gardens on 14 November 2019 – 22 March 2020. MPavilion is an initiative of the Naomi Milgrom Foundation in partnership with City of Melbourne, Victorian Government through Creative Victoria and Development Victoria, ANZ, and RACV.