MPavilion's March program closes the season with a bang, experimenting with space and time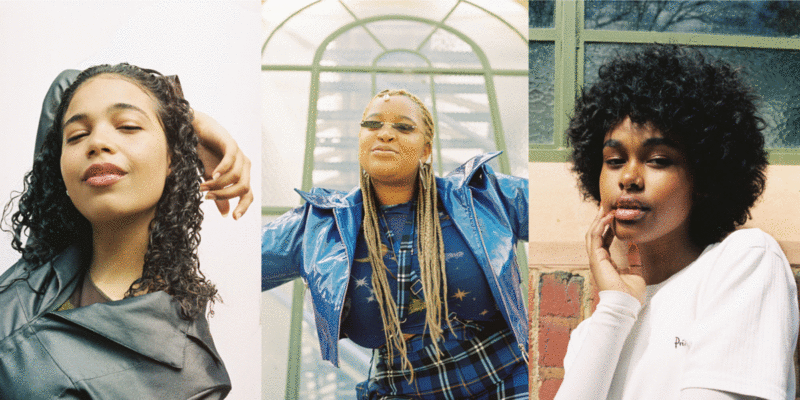 MPavilion is set to close its 2020/21 season with a jam-packed program of events that experiment with space and time. From Monday 1 March to Thursday 1 April, come join us for workshops, talks, performances and more, all curated under the theme: 'SPACE: EXPERIMENTS IN TIME'.
This temporal-centric program will pull, twist, flatten and expand all that is pop-up, temporary and impermanent, pushing concepts of time and space to the limit. Jemma Read, global head Bloomberg Corporate Philanthropy, one of MPavilion's presenting partners, said: "What makes our partnership with MPavilion so vibrant is the element of community engagement that continues through such diverse programming. We are excited by the creative and innovative ways MPavilion is leveraging architectural design and the arts to bring the community of Melbourne together."
Some of March's highlights include:
hair salon
Dedicated to challenging fixed ideas of space, MPavilion Parkade—an already adaptively reused car park-turned-cultural-centre—will be transformed into a real Hair Salon designed with local artist and writer Atong Atem with Where Are You From? founder Sabina McKenna. Featuring sessions hosted by HoMie, Short Back & Sidewalks, and an array of artists, musicians, performers and thinkers including Flex Mami, Ayeesha Ash, Moreblessing Maturure, Namila Benson, and DJ's Darcy Justice and Claudette Justice, Hair Salon is to be a site of conversations, performances, workshops and hair-styling sessions that run a fine-tooth comb over the role of hair in shaping our identities, images, perceptions and rituals. And because Hair Salon is a real salon, anyone can book through the MPavilion website to get a real haircut, or a hair braiding, by a real-life hairdresser. 
MELBOURNE DESIGN WEEK
MPavilion presents the Australian premier of White Cube, the Dutch documentary by Renzo Martens that features the work of OMA/ David Gianotten, the architects behind MPavilion 2017 (now at Monash University). White Cube follows the work of Cercle d'Art des Travailleurs de Plantation Congolaise (CATPC), a plantation workers' cooperative based on a former Unilever plantation in Lusanga, Democratic Republic of Congo. From the elite museums and galleries across the world, to the exhausted plantations of The Congo, the film documents the CATPC's success in ending the destructive system of monoculture on their lands with a combination of art and activism. 
Other design week highlights include Home Made, a panel discussion and exhibition curated in collaboration with New Architects Melbourne. Following the disruption to Design Week 2020, Home Made is relaunched with a new impetus, as we emerge from Covid-19 lockdown with an altered  relationship with our homes. The Home Made exhibition at the Parkade presents a survey of projects which reflect Melbourne's zeitgeist in housing innovation including Nightingale Housing, Assemble, Property Collectives, CoDev, Tripple, and the Third Way. 
Three Bodies a short documentary film by Dorothy Allen-Pickard, commissioned by Molonglo is also part of design week. For MKids, a Design Your Own Pavilion workshop is led by Tania Davidge and Christine Phillips of OoPLA. 
EMPTY SPACES SUMMIT
As well as supporting MPavilion's ongoing M_Curators program, Bloomberg Philanthropies is the presenting partner of MPavilion's Empty Spaces Summit, a week-long symposium and workshop that takes a close look at ruins, empty spaces and forgotten parts of Melbourne, and cities beyond. The summit is led by multidisciplinary artist Jarra Karalinar Steel and mixed-media conceptual artist Dr Clare McCracken, with invited guest speakers including Ilana Altman, cultural planner and designer at The Bentway (Toronto), Tania Davidge, Christine Philips and more. 
The rest of MPavilion's events for March/April include MTalks like BLAKitecture: Indigenous 'first principles', Mirka & friends (a celebration of the life of legendary local artist Mirka Mora), The lost narratives: A live reading (which invites architects and designers to relive some of their designs through written short stories), and MMeets like early morning yoga sessions with Happy Melon, rollerdiscos with Malt Shop Rollers, an L2R Dance takeover, a paper food workshop, and a special VIP day with HoMie. MPavilion will also be partnering with Rooftop Cinema to bring you specially-curated film screenings for Topless Cinema. 
MPavilion is supported by principal partners, the City of Melbourne, the State Government of Victoria through Creative Victoria, and RACV.
For further information, including program times, please visit www.mpavilion.org 

MARCH/ APRIL PROGRAM:
Designing with 'First Principles' can be described as a process of questioning everything we know or assume to be true until we arrive at the most fundamental truth we can. Indigenous built environment practitioners and designers yarn about what Indigenous First Principles might be, when approaching design. 

Eye Am hair is a gender neutral salon with highly creative hair artists that can do both alternative and more classic hair styles depending on your taste. Press pause and relax, while hairdressers cut your hair and look after your well being in a meditative environment. 
This talk examines how the online Natural Hair movement has influenced the industry, as well as access to hair knowledge education for curly-haired people. 
What does the term 'good hair' mean anyway? Moderated by Namila Benson, with guests Flex Mami, Ayeesha and More Blessing, this talk explores the social, political and personal experiences of having textured, curly or kinky textured hair.
Inspired by the Hair Salon installation at Parkade, Rooftop Cinema screens Tim Burton's Edward Scissorhands, at MPavilion Parkade.
Featuring emerging and professional L2R dancers and students from Melbourne's vibrant west, this hour-long showcase includes hip hop dance performances, battles, MC's, DJ's, and a jam session for everyone.  
This panel discussion explores the intersection of advancing technologies, human rights, and governance in a future where traditional understandings of the individual, the collective, and both of their relationships with the environment may not be productive.

Got a message to share? Turn it into a deadly statement tee with Gammin threads! A fun, interactive workshop where participants can create their own graphic tee to take home. Presented in collaboration with the Melbourne Fashion Festival.

Join Beci Orpin in collaboration with the Jewish Museum to celebrate two of Mirka Mora's passions: creating, and French food. Using paper, glue and paint, you can learn how to make classic French ingredients such as leeks, camembert, dijon mustard and baguettes, in 3D form.
Join us for a panel discussion about deeply missed Melburnian artist Mirka Mora, in partnership with Melbourne Jewish Book Week. Moderated by Jessica Bram, Director and CEO of the Jewish Museum of Australia, authors Sabine Cotte, Lesley Harding and Kendra Morgan talk about Mirka's talent, effervescence and charm.

MTalks – The lost narratives: A live reading, Mon 15 Mar, 6.15—7.15pm
This live reading invites architects and designers to relive some of their designs from the very beginning through written short stories. Followed by a discussion on how that narrative has evolved overtime.
Through their increasing permeability, adaptability and open space contributions, contemporary cemeteries are moving towards becoming places of community. This discussion will explore how art can facilitate this transition, reflect on the rich and changing multicultural populations of Melbourne, and support visitors experiencing grief.
Join spatial designer and educator Sarah Burrell for a workshop and panel discussion that invites you to reimagine monuments and other markers of public memory in the city. 
How do you make a pavilion? This workshop is for the young (and young at heart) finds out exactly what a pavilion is, and shows you how to design one. Led by Tania Davidge and Christine Phillips of OoPLA.
Global Gardens of Peace will facilitate workshop discussions on what brave new public spaces can look like, who they might serve, and how these landscapes when re-imagined can be both the catalyst for and the result of change.
A panel conversation to launch the Home Made exhibition, curated in collaboration with New Architects Melbourne. Hear speakers from key innovative housing projects across Melbourne including Assemble 122 Roseneath Street, Clifton Hill, Property Collectives McCracken Street, Northcote, Nightingale 2.0, and Murundaka Co Housing, Heidelberg Heights.

Leveraging the track record of housing innovation concentrated in Melbourne in the past decade, this exhibition explores what a more community-centred, sustainable model of housing might look like, and how it can provide an attractive, generous way of living in our urban centres.
This screening of Three Bodies—by Dorothy Allen-Pickard, commissioned by Molonglo and presented as part of Melbourne Design Week 2021—will be followed by a panel discussion that explores how the built environment can either be a pathway or a barrier to community, opportunity, and pleasure, depending on how places are designed, and who they are designed for.

With facilitated audience participation, respected academic, government, and industry experts pull together the threads of opportunity of the COVID-19 situation to identify cooperatively better ways of urban living for a post-pandemic world.