MKids – Book now for kids events at MPavilion!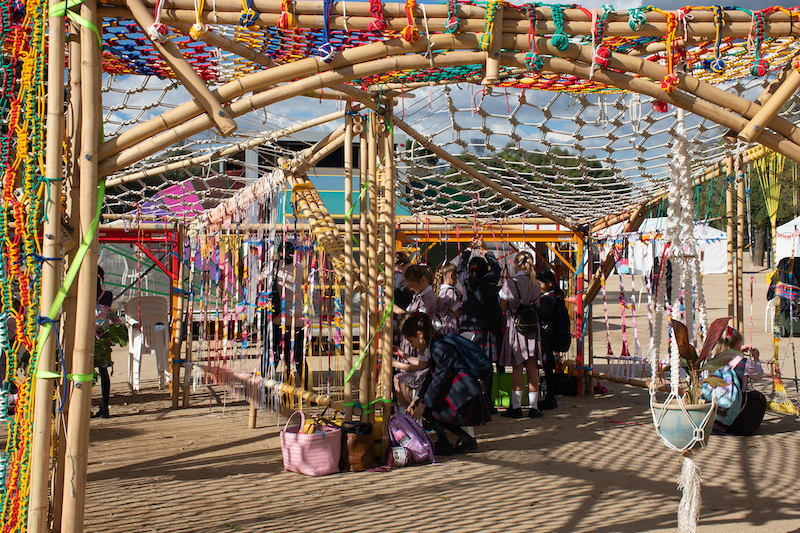 With circus workshops, a rollerdisco, kids yoga, a teenage rock concert, craft workshops, botanical play, and lots more, MPavilion's summer program is full of exciting and uplifting events for kids!
So have a look through this list, and start booking your young ones in for a fun summer at MPavilion.
MKIDS YOGABEAN KIDS YOGA
Dedicated to helping children develop physical, mental and emotional skills that can be used in all aspects of their life, Yogabean run yoga classes that integrate the latest research and practices. Utilising age-appropriate activities in a fun and engaging way, these sessions will Incorporate mindfulness, relaxation, and engaging yoga games with energising and uplifting music. Read more and book now!

MKIDS CIRCUS IN THE CITY
Come one, come all to the most exciting circus in town—your circus! Kids will love this series of workshops in the park with Westside Circus, developed to be a relaxed and engaging introduction to the art and skills of the travelling show. Read more and book now!
MMUSIC ROCK ACADEMY 22
After a week of songwriting and rehearsal at Rock Academy's famous holiday workshops, some of Melbourne's finest teenage musicians will hit the stage to present a range of original and cover songs. Having been mentored and guided by some of the country's finest musicians, these young talents are here to show you what they can do! Read more and book now!
MKIDS GRASS, TWIGS, LEAVES!: BOTANICAL MONOPRINTING WITH TARRAWARRA MUSEUM OF ART
Together with their parents or guardians, children aged between 5 and 12 years old are invited to use botanical elements to explore a direct printmaking process, contributing to a giant collaborative artwork inspired by the work of one of Australia's most important and celebrated contemporary artists, Judy Watson. Read more and book now!
MKIDS PREHISTORIC ART, MUSIC & DANCE WITH VENTANA COLLECTIVE
Inspired by prehistoric human traditions, this uplifting event will give children and adults new ways to appreciate the beauty of sound, movement, the raw elements of nature, and each other. Use natural materials found on site to create instruments, artworks and installations, and to decorate the space and participants' own heads and faces (if desired)! Read more and book now!
MKIDS PARTS IN THE PAVILION
A dynamic project that provides found and manufactured shapes and objects to all ages for self-directed, open-ended play. Enabling collaborative construction, subversion of object use and so much more, PARTS is all about discovering the endless possibilities presented by even the most 'ordinary' object. Read more and book now!
MKIDS PLANKS BLOCK-PLAY
In this safe, clean and thoroughly engaging event, share in the limitless fun of playing with 25,000 blocks, while being inspired by a series of sophisticated display constructions, put together by the Green Hat block-play team. Read more and book now!
MMEETS INFINITY PARASITE
Over three days, you and Slow Art Collective are going to transform Amanda Levete's pavilion into something new, strange and exciting intervening creatively with the existing architecture with a colourful growth of yarn, bamboo and plant matter. Read more and book now! 
MKIDS A WHEELIE GOOD TIME-KIDS EDITION
Get your skates on! It's time to come whiz around MPavilion Parkade at a fabulous Rollerdisco! Part roller-party, part fun-and-games spectacular, this Rollerdisco event invites you to step out of your shoes, and into an 8-wheeled world of high-energy, interactive fun. Read more and book now! 
MKIDS MELBOURNE CARBONSCAPE & MKIDS DESIGN FOR POST-CARBON-NEUTRAL MELBOURNE
In these back-to-back workshops for 12—14-year-olds, construct a physical landscape of statistics and strategies to represent Melbourne's push to carbon neutrality in a tactile and visual way, before imagining and creating a speculative design for a post-carbon-neutral Melbourne. Read more and book now—Melbourne Carbonscape or Design for a post-carbon-neutral Melbourne!

MKIDS Bug blitz
These hands-on workshops will take attendees to the natural world that surrounds MPavilion Docklands, teaching kids about the importance of biodiversity, as well as some crafty activities. Fusing science and art, these two workshops are the perfect summer holiday activity. Read more and book now!